Announcing:
Intandemly infuses its first growth capital from Manda Holdings, USA and get's a multi-million $ valuation!
Intandemly has proved that to create an impactful company, more than money - grit, passion and obsession can get you there.
Here is how Intandemly grew from $500 to a multi-million company.
In 2017, I saw a market need for an affordable account-based sales solution for SME's. I took this idea to
Kiran Madhunapantula
- who was my manager at coMakeIT back then - He always believed in my potential and agreed to support me. We formed the company with just $500 as capital and established the initial infrastructure, thanks to
Kiran Madhunapantula
and
Steven ten Napel
. Looking at our sheer passion - we on-boarded our first 3 customer's even before we had a viable product. They even paid us upfront. That money became our working capital. We then got our first team -
Saran
and
Swetha Reddy
who believed in my madness and helped shape our first prototype! We decided to stay bootstrapped despite multiple offers as we really wanted to ensure product market fit before we focus on scaling. [caption id="attachment_9806" align="aligncenter" width="1024"]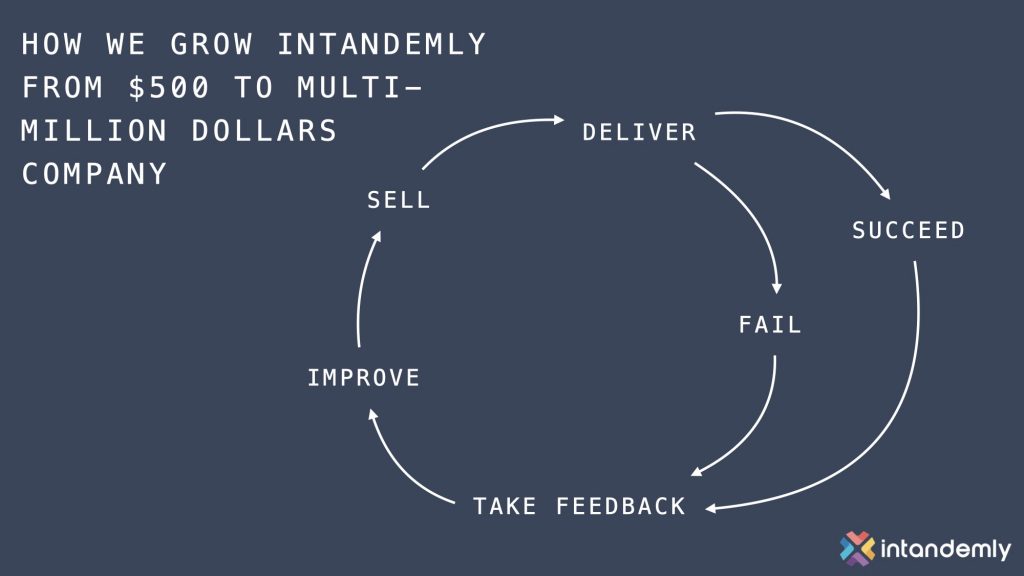 How we grow intandemly to multi million dollar company[/caption] It took us 3 years of hard work and iterative tweaking to crack the exact product market fit challenge.
(I know this is slow according to a number of industry gurus, but who cares?)
Once we found our sweet spot, we started focusing on go-to-market and sold the product to customer's from 24 different countries,
Samson Lingampalli
played a huge part here. Today we are profitable, bootstrapped and roughly have
50+ Intandemates
which is more than a family to me. To me personally, it's a great success, but as Kiran rightly pointed out - "what got us here, is not sufficient to get us to the next milestone in our growth journey". With that, we decided to onboard Manda Holdings as an external investor to drive innovation and customer success.
Important lessons learnt on this journey so far:
Making money is easy - building a great team, product and business is brutally hard.
Never compare yourself with another companies and how big their valuation is - your journey and timing is entirely different. Stay focused and love the process.
Be grateful to all the customers whom you have failed to deliver or hated your product - they are the real teacher's, provided you learn from them.
You will go bankrupt a few times while building a product, that's part of the journey.
Reputation is everything. You will not realise this in the short term, but it will have unbelievable returns in the longer term. Honesty and Credibility can do wonders to your career trajectory.
Thank you Intandemly team for being a part of the journey! It's time for us to feel proud about what we have done. Game is just got started and let's build some great software!
Sampath Mallidi
CEO, Intandemly.